04-02
ステージ1表参道
Stage1 Omote-Sando
Small Urban Fashion Building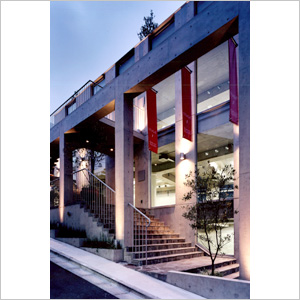 | | |
| --- | --- |
| 東京都渋谷区 | Omotesando, Shibuya-ward, Tokyo |
| テナント・個人住宅 | K House + Office |
| 2007年5月 | 2007 |
| 628m2 | 628sq |
| RC造地下2階+地上3階 | Reinforced Concrete structure, 3F-B2F |
写真: 堀内広治
■表参道から一筋北側に入った街は、レベル差もあり、街並景観が一定していない。その街並を大階段で上下の街を連続させ、中間からも店舗に導く賑わいを演出した。
■敷地のレベル差を利用し、外部より各階へ独立的に進入できるアプローチテラス。
■人々がたたずむ街区に開いたサンクンガーデンのある街角広場と領域を示すフレーム。
■表参道の裏通りに人を引き込むシンボリックな空へ伸びるデザイン
■ストライプ状のコンクリートとガラスによって構成された垂直なファサード
■通りの景観(表参道ヒルズ他)に調和した打ち放しコンクリート

■ Corner plaza and the area with the sunkun garden opened to the street where people stay. A symbolic vertical facade is composed of a stripes of concrete and glasses.
■ The building draws people into the backstreet of Omotesando, and concrete facade makes harmony with surrounding townscape.
■ The entrance to the house is a gallery of the owner's paintings. The circular stair will greet the visitors to welcome onto the living room.
■ The living room is used for a reception room. Wide open living room with timber glass partition, large windows, and floor finished by Teppei-seki stones.