04-03
TAKIビル青山
Taki Buil. Small Urban Building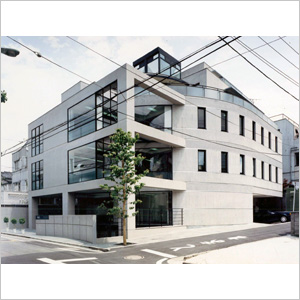 | | |
| --- | --- |
| 東京都渋谷区 | Jingumae, Minato-ward, Tokyo. |
| テナント・個人住宅 | T House + Office |
| 1990年3月竣工 | 948.39sqm |
| (延床)948.39m2 | 1990 |
| RC造 地上5階/地下1階 | Reinforced Concrete structure, 5F |
写真: 堀内広治
■神宮前の低層住宅地内の都市型小規模オフィスビル。
■周辺の街並みを尊重し、角地の流れを活かした3層のRC打ち放し曲面壁と北側2層のガラス開口部が明るい存在感を示している。
■地下のサンクンガーデンには道路側からの階段でもアプローチでき、外灯などのデザイン会社がショールームとして利用。
■1階は奥へのアプローチと小事務所、4・5階にオーナー住居。
■4,5階はロトンダを模して、天空光がふんだんに入る四角い箱を中心としてテラスの大きな居間・食堂が拡がり、5階の個室と連続している。

■ Urban small-scale office building in the low-rise residential area of ??Jingumae. Following the surrounding townscapes, the three story of curved concrete walls and the two large windows show a bright experience .
■ The underground sunken garden is approachable by the stair directly from the road and is used as a design showroom by the design companies of Bf tenant.
■ The first floor is an approach space to the back and a small offices, and owner residence on the 4th and 5th floors.
■ A rectangular box with a circular stair imitating Rotonda was placed in the center of the house.
■ Rooms, Living, dining, reception, bedroom, 5th floor. are surrounding it. Sky light is for the south light intake and for gaining the solar heat.
■ The living room / dining room faces a wide terrace and is integrated with the outside with two curved glass windows.
■ We designed elegant wooden space with stained glass, using materials such as wooden floor, ceiling, polished wood wall and herringbone floor.