05-03
光と風の家
Light Wind House, Tsurumi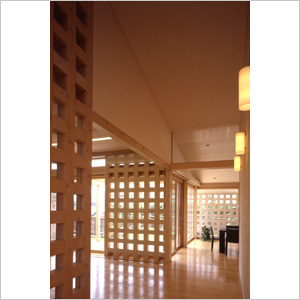 | | |
| --- | --- |
| 神奈川県横浜市 | Yokohama city , Kanagawa-Pref. |
| 個人住宅 | M House |
| 2004年3月竣工 | 1996 |
| 316m2 | 316sqm |
| 木造2階建て | Timber structure, 2F |
| | |
| 2004年 フォレストモア奨励賞 | |
写真:堀内広治
■南北に貫通した斜面の空間が全体をつなぎ、空気が常にゆるやかに動き、北の納戸上部ガラリから空気が排気されるパッシブ型重力換気の家。
■西のアプローチから入った玄関ホールは、2層吹き抜けの階段のある空間で、北側に個室ゾーン、南側に居間と食堂の公室ゾーンを配置。
■4つの耐力格子壁を配置し、これが全体の空間を緩やかに分け、品格を表すモチーフとしている。
■中央南北空間を斜面天井に沿って、南から北のハイサイド窓に空気が流れるパッシブ型環境建築を目指している。
■床下に炭を敷き詰め、輻射暖房を配置した。空気は室内を巡り、反対側のスリットから床下を通って循環するため、床温度は室内と同じ快適さを獲得している。

■ The slope space under pitched roof is penetrating from north to south, which connects the whole building, and the air always moves gently.
■ The house realizes the passive house of natural ventilation.
■ The entrance hall is an open ceiling space with stairs. Private room zone is set on the north side on two floors and public room zone, a living room, dining room are set on the south side.
■ Four lattice walls are arranged, which has three roles, one of which is an earth quake bearing wall and second is a wall penetrating the sunlight and the sight to the outside and the third is gently separate the entire inner space. This wall and the form of the house exist as motifs representing dignity.
■ The house is designed as a passive environmental architecture where the air is always gently flowing from the south to north and exhaust to high side window of the top.
■ Coal was laid floor radiant heating. Air circulates under the floor and flows out from the slit of opposite side, and the floor temperature gains the same comfortable temperature as in the room.