05-103
-連歌の響き-
高浜1丁目団地 A-1棟・A-2棟
Takahma UR Housing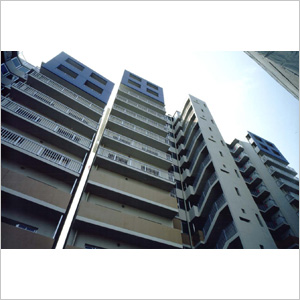 | | |
| --- | --- |
| 千葉県千葉市 | Apartment, Chiba city, Chiba Pref. |
| 集合住宅 | Condominium |
| 1996年 | 1996 |
| A-1棟 4320m2、A-2棟 4000m2 | A-1 tower 4320sqm A-2 tower 4000sqm |
| SRC造地上13階建て | Steel Reinforced Concrete structure, 13F |
■日本住宅都市整備公団、内井昭蔵氏がマスターアーキテクト、藤木隆男氏と中村がブロックアーキテクトとして協同した。
■高層住宅における、複数建築家による連歌形式の設計プロセスを提案し、茶色のかけら、バルコニー先のマリオン、ピロティ形式の街区入り口などを提案した。

■ Urban Renaissance Agency's last condominium high rise housing in Chiba. Shouzou Uchii as a master architect, proposed "Renga style design" (a linked poem style in Japanese traditional culture) with two architects, Takao Fujiki and Ben Nakamura collaborated as block architects.
■ Proposing a multi-architect's design process of in a high-rise residential area, we proposed three layers of design from low three stories, middle and top crown design of the building. Also proposed detail fragments design such as brown mullion on the balcony, entrance of the block as pilotis style.