05-05
内の家、外の家
In and Out House for Sculptor, Nara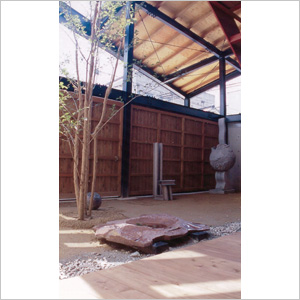 | | |
| --- | --- |
| 奈良県奈良市 | Nara city, Nara-Pref. |
| 個人住宅 | S House |
| 2003年9月竣工 | 2003 |
| 105m2 | 105sqm |
| S造2階建て | Steel structure, 2F |
■奈良市市街地に建つ、彫刻家のアトリエ兼住宅。
■土間空間を大屋根が覆い、内部化された外部空間が生き生きとした創造的場をつくっている。
■限定的な利用を避け、内部も半外部も生活の様々な場面で利用される
■たとえば気候のよいときは朝食は土間で食べたり、生活と創作活動を状況にあわせて住まいこなすという施主のライフスタイルにも負うところが大きい。
■東に2階建てのRCBOXが住まいの最小限空間。極ローコスト。

■ The stone and metal sculptor's atelier and house locate in the residential area of Nara city.
■ The large roof covers "doma space"( an earthen floor in a house, here the artist works for sculptures)makes a vivid and creative space.
■ Internal exterior spaces under the big roof are used for various situations of the life. Based on the owner's lifestyle, it is used for eating, relaxing and creative activities etc. depends on the situation.
■ Concrete BOX of two stories of east is the minimum living space which realize extremely low cost construction.